The forex markets are quiet in a typical Asian session on Monday. Yen and Swiss Franc are trading slightly higher as Asian stocks pull back from recent rally. While exports number from China look strong, imports growth clearly lagged behind. Sterling is currently the weaker one as Brexit negotiations are still carrying on, and running out of time. It's reported that there were breakthroughs on fishing. But issues regarding level playing field remain to be resolved. Dollar and commodity currencies are mixed, together with Euro.
Technically, Yen could be an interesting one to watch for the week, and possibly for the rest of the month. EUR/JPY lost momentum ahead of 127.07 resistance, failing to resuming near term up trend for now. Similarly, GBP/JPY is held below 142.71 resistance. NZD/JPY was the strongest one while took out 71.66 resistance earlier in November. CAD/JPY is playing catchup and breached 81.42 resistance. But AUD/JPY is held well below 78.46. We'll see if these Yen crosses would finally align with each other on uptrend resumption. Or, pull back in EUR/JPY, GBP/JPY and AUD/JPY would drag down the others.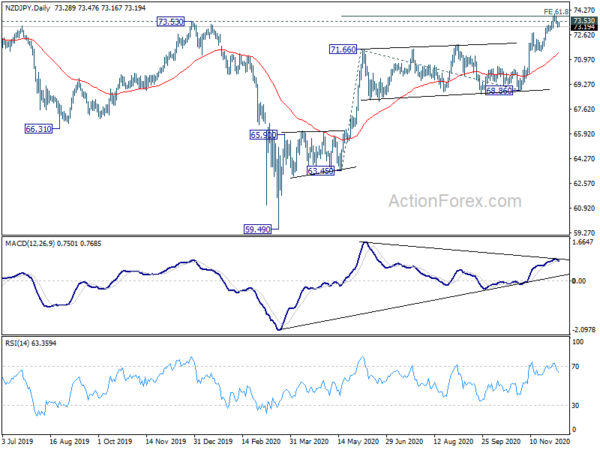 In Asia, currently, Nikkei is down -0.89%. Hong Kong HSI is down -1.69%. China Shanghai SSE is down -0.66%. Singapore Strait Times is down -0.12%. Japan 10-year JGB yield is up 0.0018 at 0.027.
China's export rose 21.1% yoy in Nov, imports rose 4.5%, trade surplus at USD 75.4B
In November, in USD term, China's export rose 21.1% yoy to USD 268.1B. Imports rose 4.5% yoy to USD 192.7B. Trade surplus came in at USD 75.4B, up from October's USD 58.4B, above expectation of USD 53.8B. Year-to-date, exports rose only 2.5% yoy while imports dropped -1.6% yoy. Year-to-date trade surplus was at USD 460B.
Year-to-date, total trade with EU rose 3.5% yoy to USD 581B. Exports rose 5.7% yoy to USD 351B. Imports rose 0.2% yoy to USD 231B. Trade surplus was at USD 120B.
Year-to-date, total trade with US rose 5.8% yoy to USD 524B. Exports rose 5.7% yoy to USD 406B. Imports rose 6.1% yoy to USD 118B. Trade surplus was at USD 288B
Year-to-date, total trade with Australia dropped -0.9% to USD 153B. Exports rose 9.4% yoy to USD 48B. Imports dropped -4.9% yoy to USD 105B. Trade deficits was at USD -57B.
Australia AiG services rose to 52.9, but new orders slowed
Australia AiG Performance of Services Index rose 1.5 pts to 52.9 in November, highest since November 2019. Looking at some details, sales rose 5.1 pts to 54.7. Employment rose 3.3 to 56.4. But new orders dropped -1.0 to 51.9. Growth was seen in four sectors while retail trade and hospitality was the only sector that continued to contract.
BoE Haldane: Plenty of scope for vaccine to release more of pent-up demand
BoE Chief Economist Andy Haldane told the Daily Mail newspaper that as people's incomes held up and spending was restrained by the coronavirus restrictions, "they have amassed around £100billion of excess savings." People are using their "involuntarily-accumulated savings" on a new house or a new car, and there are "plenty of those savings still to be used."
Households have shown "unbelievable resilience" and consumer spending has "come back at real pace". People are also flexible as "they are not going to the pubs and restaurants, but they have switched to takeaways and patio heaters."
Haldane believed that the roll out of the Pfizer/BioNTech COVID-19 vaccine could deliver a boost to the economy. "There is plenty of scope there for the vaccine to release more of that pent-up demand."
ECB recalibration as the main event ahead
Two central banks will meet this week. ECB is widely expected to announce "recalibration" of its policies. We're expecting both expansion and extension on the PEPP, as well as some adjustment on the TLTRO. Equally important, ECB will publish new economic forecasts which should should now the second wave of the pandemic would affect the outlook. (More in ECB Preview – Policy Recalibration to Focus on PEPP and TLTRO). BoC is generally expected to stand pat this week.
Here are some highlights for the week:
Monday: Australia AiG services; China trade balance; Japan leading indicators; Germany industrial production; Swiss foreign currency reserves; Eurozone Sentix investor confidence; Canada Ivey PMI.
Tuesday: Japan average cash earnings, household spending, current account, GDP final; Australia house price index, NAB business confidence; France trade balance; E