FX Brief:
RBNZ held rates as expected, although scope for further fiscal and monetary stimulus remains "if needed". Data since their August MPS (Monetary Policy Statement) didn't warrant a significant change to their outlook and RBNZ are "pleased" with their lower currency – points we both outlined in yesterday's RBNZ preview.
NZD and USD are the strongest majors, JPY and AUD are the weakest, although ranges remain narrow outside of NZD pairs.
NZD/USD hit a 5-day post meeting, AUD/NZD broken beneath key support to confirm a double top and the biggest gainer is NZD/JPY, currently the only pair to exceed its typical daily range.
As for the dollar, it's retraced from yesterday's lows across the board yet several pairs warrant a closer look; USD/CHS is trying to break its bullish trendline form August, USD/CAD is trying to carve out a top, USD?JPY is back above 107 and EUR/USD is considering another break of 1.10.
Cryptocurrencies have made a minor effort to pare losses endured during yesterday's crypto rout. Yet given the double-digit losses sustained across the board, traders may be on the look out for a dead-cat bounce to fade.
Equity Brief:
Democrats launched a formal impeachment inquiry into Donald Trump, although this could be the slow path to nowhere as it will require at least 20 Republican's to flip on Trump to officially oust him. After no doubt many investigations. S&P500 E-mini futures are taking it all within stride and trade slightly higher on the session.
Still, it didn't prevent the ASX200 rolling over at the open and equities across Asia are mostly in the red. At the sector level, info tech and utilities lead the ASX200, energy and materials lag. Iron ore prices also weighed on miners, with iron ore producer Mount Gibson Iron falling over 8% on the session. At the other end of the board is Afterpay Touch Group, which rallied to an all-time high after filing its external audit report, which found no evidence of money laundering or terrorism financing activity. The broader ASX has seen 31.4% stocks advance, 45.5% decline and 23.1% unchanged.
The Hang Seng Index is the biggest decliner among the indices we closely track and currently trades at a 3-week low. The Nikkei sank to a 5-day low (although mean reversion appeared overdue anyway) whilst China A50 and Kospi 200 remain relatively unscathed relative to their cycle highs.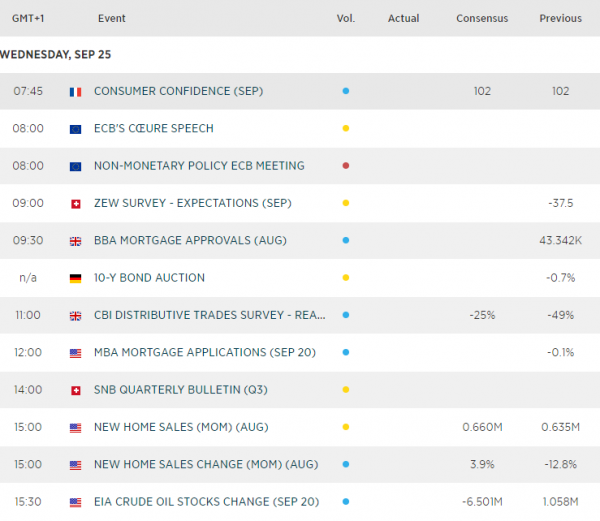 Up Next
Fed voting members Evans, Brainard and George are all due to speak later, so USD pairs and indices could react to any policy related comments (less dovish is likely good for stocks or more hawkish less so).
With no major economic data released, it will be any headlines surrounding Brexit or Trump's impeachment proceedings which are likely to move markets to any notable degree.