It has been a sleepy Friday for USD/CAD. Currently, the pair is trading at 1.3425, down 0.13% on the day. There are no Canadian events on the schedule.
US Manufacturing PMI eyed
US manufacturing has been hit hard in the wake of the Covid-19 pandemic, as the economic activity has slowed down considerably. The US Manufacturing PMI has been in contraction territory for the past four months, with readings below the 50-level. Still, the index has been moving upwards and showed strong improvement in June, climbing from 39.8 to 49.6. Will the index push past the 50-level in today's release? Analysts think so, with an estimate of 52.0. A reading above 50 will raise hopes that the nascent economic recovery is gaining ground.
Investors have not been attracted to the US dollar, despite its safe-haven status in times of trouble. The Canadian dollar has benefited, gaining 1.1% this week. We're unlikely to see any significant movement before the weekend, with the Canadian dollar currently enjoying its strongest weekly gains since the first week of June.
USD/CAD Technical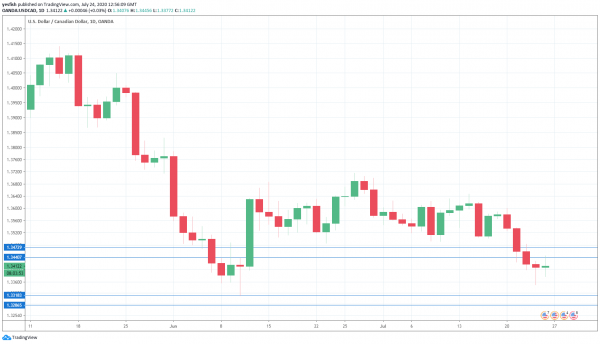 USD/CAD posted gains in the Asian session but has retreated in European trade.
1.3318 is providing support. Below, we find support at 1.3286
The 20-day MA is located just above the pair, at 1.3582. A break above this line would be bullish for the pair
1.3440 is an immediate line of resistance. This line was tested in the Asian session and could see further action in the North American session. This is followed by resistance at 1.3472