After some big moves in November, we believe the RBA will stay put at this week's meeting. Given the good news about vaccine and the steady decline in the country's coronavirus cases and, we do not feel surprise if the members turn more upbeat this month.
Economic data released since the last meeting suggested continued economic recovery. Total employment rose +178.8K in October, beating consensus of a -30K contraction and September -29.5K decline. The unemployment rate edged slightly higher, by -0.1 ppt to 7%, This came in, however, less than consensus of 7.2%. Meanwhile, the participation rate rose +1 ppt to 65.8%, signaling higher confidence over the job market. As the economy gradually reopens, household spending improves. Retail sales grew +1.6% m/m in October, compared with consensus of +0.3% gain and a -1.5% decline in September.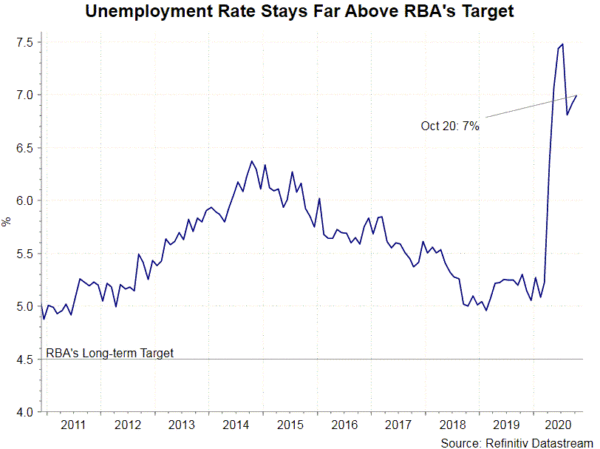 As the first indicator about November's developments, the flash reading of composite PMI rose to a 4-month high of 54.7 in November. The flash manufacturing PMI soared to a 35-month high of 56.1. The accompanying report indicated that Australia's private sector economy gathered momentum in November, "setting the scene for a stronger GDP performance during the final quarter of 2020". It is believed that "a further easing of virus containment measures particularly benefited the services sector, which saw business activity growth accelerate in November. Manufacturing output also rose at a faster pace".
On the monetary policy, RBA lowered the cash rate to 0.1% in November, from 0.25% previously. The target for the yield on the 3-year government bond yield and the interest rate on new drawings under the Term Funding Facility were also lowered to 0.1%. Meanwhile, the central bank cut the interest rate on Exchange Settlement balances (the Australian equivalent to US interest rates on excess reserves) to 0. On asset purchases, RBA announced to buy AUD100B worth of government bonds of maturities of around 5 to 10 years over the next 6 months.