After a brief pause on Friday, the euro has resumed its upswing early in the trading week. Currently, EUR/USD is trading at 1.2158, up 0.31% on the day.
Euro
The week ended on a bright note, as German Factory Orders rose 2.9% in October, up from sharply from 0.5% beforehand. This points to growth in the manufacturing sector, a vital driver of economic growth in the eurozone's largest economy. On Monday, German Industrial Production, which is also related to manufacturing, posted a respectable gain of 3.2% in October, up from 1.6% a month earlier. Investor mood appears to be improving in the eurozone, as Sentix Investor Confidence for December came in at -2.7, compared to -10 in the previous release. This marked the smallest decline since March.
The euro has been on a tear against the hapless US dollar. Last week, EUR/USD rose 1.3% and touched a high of 1.2177, its highest level since April 2018. The skies appear bright blue for the euro, but traders shouldn't get carried away just yet, as there is a major bump in the road. The Brexit talks between the EU and the UK remain at an impasse, with just over three weeks left until December 31st, when the UK will withdraw from the bloc. The financial markets have tended to focus on the dire ramifications of a no-deal Brexit on the UK economy, but the eurozone economy would also be adversely affected if the intricate trade relationship between the EU and UK is suddenly uprooted, and tariffs and border checks replace the seamless movement of goods. Such a scenario would likely rain on the euro's party.
EUR/USD Technical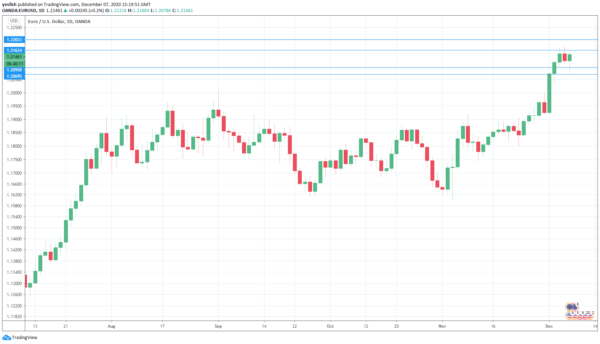 EUR/USD has tested resistance at 1.2162. Above, the next resistance line is at 1.2203
There is support for the pair at 1.2095, followed by a support line at 1.2069