Markets will go into high gear in the coming week as a jam-packed schedule looks sure to inject plenty of excitement before traders disappear for the festive period. The Federal Reserve will be headlining the week as speculation is rife about whether or not more stimulus is on the way. But there's less uncertainty about the SNB, Bank of England and Bank of Japan meetings as a major shift in policy is not anticipated from any of them. Should central bankers fail to produce much fireworks, the preliminary PMI readings for December could set the tone for the remainder of the month. However, investors should also be on standby for any updates from the drawn-out US stimulus and Brexit negotiations, which may conclude in the coming days.
Can the Fed really do more?
A raging pandemic, a slowing recovery and stalemate over fiscal policy have been steadily piling pressure on the Fed post the election to pump additional stimulus into the US economy. However, whilst there have been the usual strong reassurances by policymakers that they stand ready to act if needed, there have been few signs that they would support increasing the pace of asset purchases above the current cap of $120 billion per month.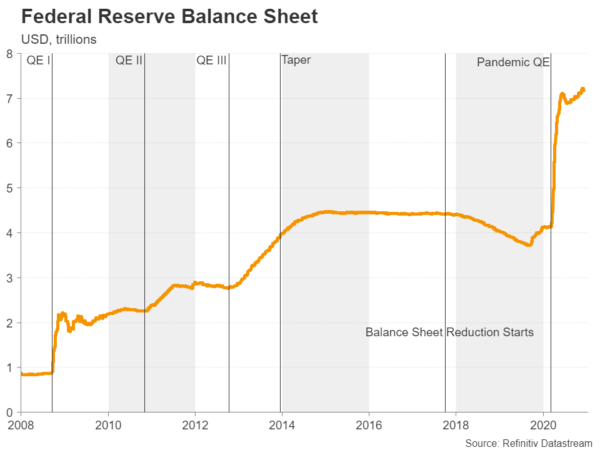 With talks in Congress on a new virus relief bill ongoing and an imminent change at the Treasury, which is about to be headed by former Fed Chair Janet Yellen, policymakers might prefer to wait a while longer before making a decision on whether to beef up their bond purchases. Instead, the Fed will likely extend some of its emergency lending facilities that are due to expire soon and possibly update its forward guidance.
The latter is what could set the markets on fire and torpedo the US dollar if Powell & Co. signal a prolonged duration of asset purchases with a shift towards longer-dated bonds. The greenback has already been under heavy selling pressure following the breakthrough of a vaccine for Covid-19 and a dovish forward guidance could be just as powerful as announcing an expanded bond buying plan.
With all eyes on the Fed, economic indicators out of the United States next week are unlikely to be particularly market moving. The Empire State manufacturing index for December will start the week's data barrage on Tuesday along with industr