The Aussie Dollar seems to be forming a decent support base above the 0.7600 level against the US Dollar. The AUD/USD pair traded as low as 0.7605, and recently started an upward move.
It broke the 0.7625 level, but it is facing a lot of hurdles. The first resistance is near the 0.7650 level and the 50 hourly simple moving average. The next major resistance is near the 0.7660 level.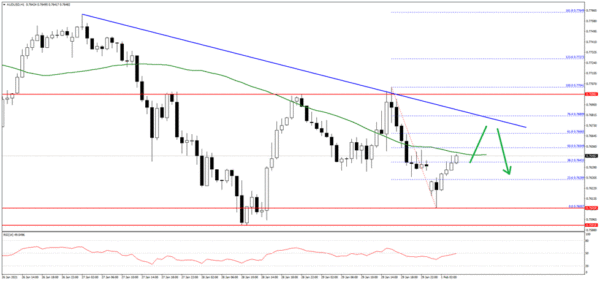 The main resistance is near a connecting bearish trend line at 0.7675 on the hourly chart, where the bears are likely to take a stand. If the bulls succeed, the pair could rise towards the 0.7800 level.
Conversely, the pair could start a fresh decline below the 0.7625 support level. The next major support is near 0.7600 zone on FXOpen, below which the AUD/USD pair could decline towards the 0.7540 support level.