U.S. Highlights
Global equity markets gained ground at week's end as the latest purchasing manager indices showed improved optimism for both services and manufacturing.
Supply constraints are an issue across much of the economy, and housing is no exception. The pandemic constrains supply and demand is strong. Wrestling the pandemic under control remains the most important economic policy.
Canadian Highlights
Canadian inflation surprised on the upside in April, although not to the same extent as the U.S. This pressure is expected to be transitory.
Canadian inflation risks are likely less pronounced compared to the U.S. A higher dollar should mitigate import price pass-through, and a relatively hawkish Bank of Canada should help keep inflation expectations anchored.
Global
Vaccine passports, both domestic and international, might be the travel and tourism sector's ticket to revival.
Vaccine passports won't come easy. And it is almost certainly going to end up as a mishmash of different credentials for different activities. This will make things messy, complicated and uncertain.
U.S. – Supply Constraints An Issue in Housing Too
Global equity markets gained ground at week's end as the latest purchasing manager indices showed improved optimism for both services and manufacturing. Markets had sold off earlier in the week over concerns that faster inflation would lead to sooner-than-expected rate hikes than previously anticipated. A number of Fed speakers through the week re-iterated that the U.S. economy is a long way from recovery.
The FOMC minutes were a bit stale this week, as they reflected discussions prior to the recent inflation data. They suggested the Fed is not ready to adjust its pace of asset purchases. However, we expect enough progress in the economy by the end of this year for the Fed to start tapering purchases. Atlanta Fed President Bostic emphasized that the Fed is "going to have to be nimble" in terms its policy responses. This suggests there may not be a lot of warning before Fed policy shifts.
Housing has been a bright light in the recovery. Low mortgage rates and the race for space helped the sector shake off the early shutdowns, allowing it to rebound to new heights. Both housing starts and sales took a breather in April, after earlier brisk activity. Housing starts retreated 9.5% but remained at a healthy 1.57 million units (SAAR). That is on par with the pre-pandemic pace of construction. Building permits also held at a fairly high level, pointing to continued momentum in the sector (Chart 1).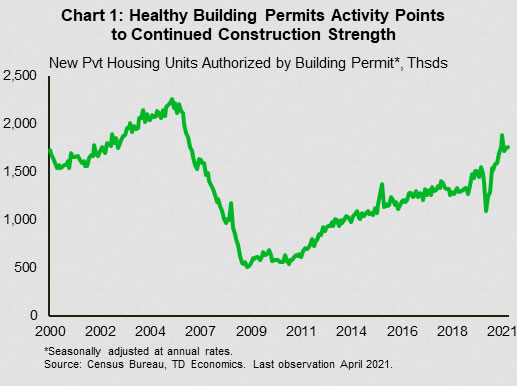 The bigger challenge facing housing is on the supply side, not demand. Lumber prices have skyrocketed since the pandemic. The benchmark lumber price has trebled since the pandemic's onset. The NAHB estimates that this is adding $36k to the cost of a new single-family home. Construction costs overall are 7% higher year-on-year, up from a 3% pace pre-pandemic. Overall labor shortages should be less of an issue, with the unemployment rate in construction up notably from its pre-pandemic level.
Supply is also an issue in the resale market. Existing home sales fell 2.7% in April, as sales activity continues to normalize from the breakneck pace through the winter. Even with the decline in sales, inventory levels remain tight. Properties sold in 17 days on average, a record low. As a result of tight market conditions, prices continue to rise at a healthy clip. As seen in Chart 2, prices have moved well ahead of pre-pandemic trends. Like many other areas of the economy, the supply of listings is likely being held back, at least in part, by the pandemic. We expect that price pressures will ease as the pandemic subsides, more listings come to market and mortgage rates head higher.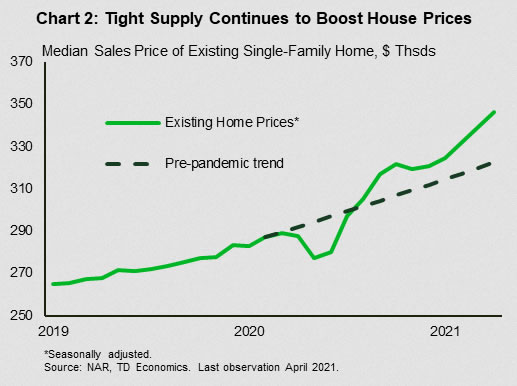 Supply constraints continue to be the hot topic across many sectors of the economy. Supply is struggling to keep up with the surging demand, leading to price pressures. This underscores how the most important economic policy right now is control of the pandemic. Until that occurs, these mismatches are likely to continue to pose challenges.
Canada – The Same, But Different
Last week's significant upside surprise in April U.S. consumer price index (CPI) inflation cert