The Australian dollar is in positive territory in the Monday session. In the North American session, AUD/USD is trading at 0.7760, up 0.27% on the day.
It has been a roller-coaster ride for the Australian dollar, which showed sharp volatility late last week. On Thursday, the Aussie slipped by 1.19%, as investors reacted to positive US numbers. The ADP Employment report sizzled with a reading of 978 thousand, crushing the forecast of 645 thousand. As well, the ISM Services PMI improved to 64.0, up from 63.0 beforehand. The PMI has reeled off 12 straight months of growth, with readings above the neutral 50-level.
The Aussie recovered almost all of these losses on Friday, climbing by 1.04%. The catalyst for the strong gains was US job numbers for May. Although the numbers were more than respectable, they missed the consensus, and this sent the US dollar broadly lower on Friday. Nonfarm payrolls showed a solid gain of 559 thousand, much better than the previous release of 266 thousand but shy of the forecast of 650 thousand. It was a similar trend with wage growth, which climbed 0.5%, up from 0.2%. However, this missed the consensus of 0.7%.
Another employment release of note was the US NFIB survey, which indicated that openings in small businesses jumped to a record high of 48%. This appears to indicate that while the economy is producing jobs, the issue is getting people out of the house and into the workforce. This issue will have to be addressed if the economic recovery is to continue at a strong pace.
Australia has started the week with strong economic data. Business activity continues to expand, as Services PMI edged up to 61.2 in May, up from 61.0 points. On the employment front, ANZ Job Advertisements jumped 7.9% in May, marking its highest level in five months. The positive numbers have lifted the Australian dollar on Monday.
AUD/USD Technical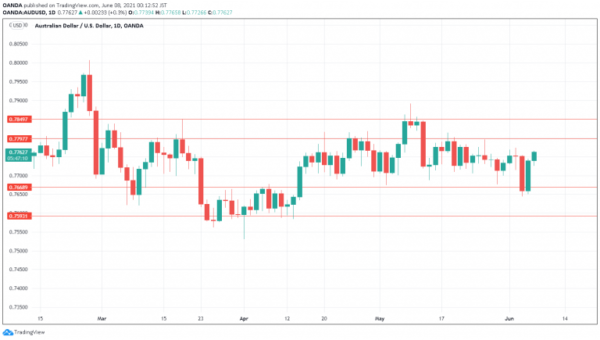 There is resistance at 0.7777 and 0.7849
On the downside, there are support levels at 0.7669 and 0.7593