The Federal Reserve is expected to provide more hints on tapering when it meets next week but may stop short of revealing a timeline. Amidst jitters about the Delta variant, markets could whipsaw if the Fed cites both progress and dangers ahead. Meanwhile, US and Eurozone GDP readings could further muddle the market mood as they will likely confirm the solid rebound in Q2 even as uncertainty about the outlook is increasing. If all that wasn't enough for investors to digest, inflation numbers out of Australia, Canada and the US will come under the microscope.
The Fed's search for "substantial further progress"
It goes without saying that the July 27-28 FOMC meeting will be next week's highlight as it will be the Fed's last chance to telegraph any potential tapering announcements either at the Jackson Hole symposium in August or the September policy meeting. But when it comes to the July gathering, it was always going to be a tricky one because policymakers clearly want to see more data before making up their minds on tapering but, at the same time, they need to get the ball rolling, at least on holding some preliminary discussions about the timing and pacing of any reduction in their asset purchases.
Complicating matters even more is the escalation in virus cases due to the highly contagious Delta variant of Covid-19, which has now become the dominant strain in the United States. Caution about the growth impact from the Delta variant could widen the divisions within the FOMC on how soon the $120 billion a month in QE needs to be pared back. However, those details will probably not be disclosed until the minutes and all we might get on Wednesday about a looming taper decision is how much closer the Fed is to achieving "substantial further progress".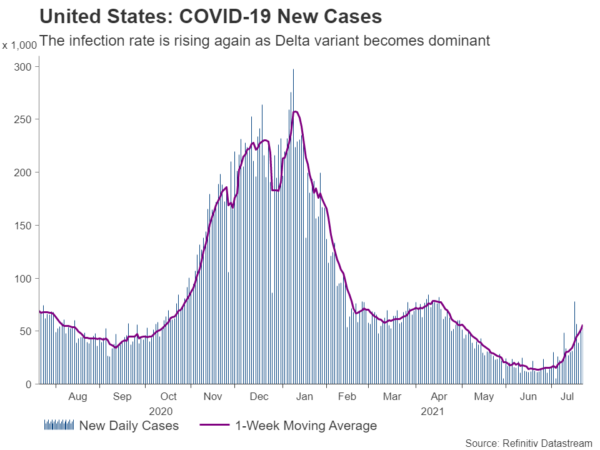 PCE inflation to headline busy data week
Should the Fed stick to the script and provide only subtle hints of tapering, the US dollar and Treasury yields may come under some downside pressure. But there should be support for the greenback from a barrage of indicators for the US economy.
New home sales will start the week on Monday and there will be more housing numbers on Tuesday and Thursday. America's housing market is booming on the back of pent up demand and the pandemic-induc