It has been a very volatile week as risk markets were initial knocked down by fear of the infectious delta variant. But sentiment made an about-turn then, even with US indexes closing at record highs. Still, despite late recovery, Australian Dollar ended as the weakest one. Yen was surprisingly the second worst performing, given that it was the early star in the week.
Canadian Dollar ended as strongest but we'd doubt if it's strong could sustain. Dollar maintain a second place after all the moves. Euro was mixed with little reaction to ECB's new forward guidance. Sterling was also mixed, but seemed to be getting out of the clouds over the "freedom day".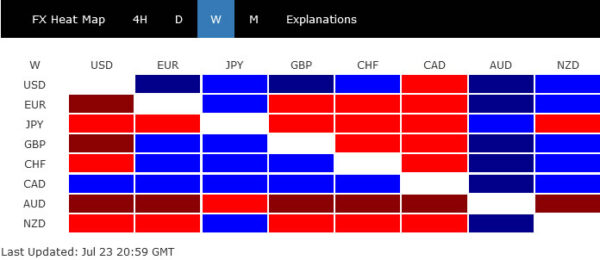 Delta worries short-lived as NASDAQ closed at record
Overall, the financial markets ended the week on a strong note despite initial deep risk selloff. Solid earning reports of US companies certainly helped sentiments. But more importantly, the worries that the spread of delta variant of COVID-19 would derail economic recovery were not that persistent.
Infections in the US, UK, and some European countries like Spain and France did surge over the past seven days. Yet death tolls remained relatively low, without much significant rise. That development suggested that, thanks to vaccinations, these advanced countries are still on the right track to stay with reopening. But of course, situation in some countries like Indonesia is still worrying.
NASDAQ's correction proved to be relatively brief as it soared to close at new record high at 14836.99. The notable support from 55 day EMA also affirmed near term bullishness. It's still on track to next target of 61.8% projection of 10822.57 to 14175.11 from 13002.53 at 15074.39.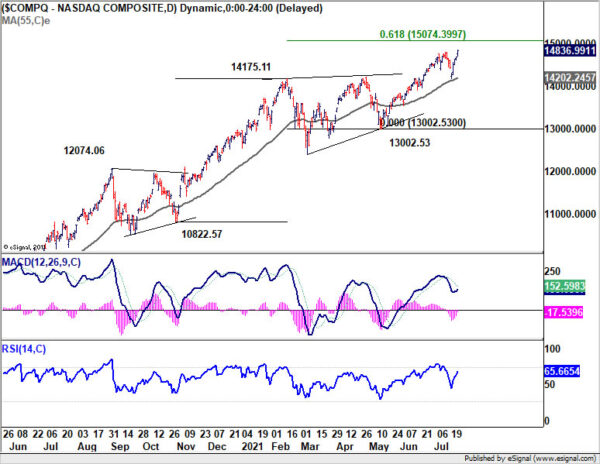 Even the under performing DOW also closed above 35k handle for the first time ever, after reversing initial selloff. We'd still be cautious on another rejection by 35091.56 resistance to start another falling leg to the corrective pattern from there. But it looks like the resilience in both S&P 500 and