SNB left the policy rate unchanged at -0.75%. It reiterated the commitment to "intervene in the foreign exchange market as necessary, while taking the overall currency situation into consideration". Additionally, the central bank adjusted the interest charged on banks' excess reserve. The rationale is similar to ECB's tiering system – defending banking sector profitability. SNB also lowered its GDP and CPI forecasts. Swiss franc strengthened against both euro and US dollar, as it has temporarily resisted the trend of renewed monetary easing.
Maintaining negative interest rate can be detrimental to banking sector profitability. This effectively means that banks are required to pay interest to SNB if they deposit excess reserve with it. Yet, interest is charged only on the portion of the sight deposit account balance which exceeds a certain threshold, the so-called exemption threshold. Previously, the exemption threshold for negative interest rate is 20 times minimum reserve. The threshold is now raised to 25 times, effective November 1.
On the economic outlook, the SNB acknowledged that global activities have "deteriorated in recent months due to heightened trade tensions and political uncertainty". Meanwhile, risks to the global economy remain "tilted to the downside". Domestically, the central bank noted that economic activities continued to grow at "a moderate rate" in 2Q19, while the employment market stayed positive. Yet, the members warned that "the deterioration of the international economic environment will likely cause growth to weaken temporarily".
As such, the central bank revised lower its GDP growth and inflation forecasts. GDP growth is expected to reach 0.5-1% this year, down from 1.5% projected in June. CPI is revised lower to +0.4% for this year, down from +0.6% previously. Inflation is expected to ease further to +0.2% in 2020 (previous: +0.7%) before recovering to +0.6% in 2021 (previous +1.1%). The broad-based downgrade is mainly driven by weaker growth and inflation prospects abroad and the stronger Swiss franc.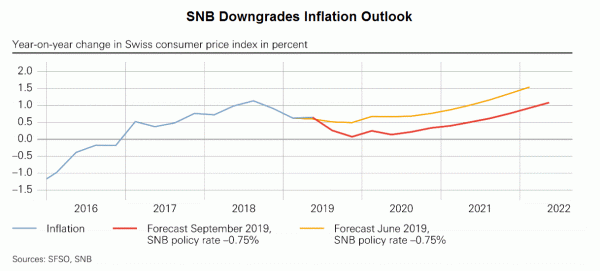 Join to ourForex trading group