Although the Fed and ECB have resumed monetary easing, BOC is not expected to follow suit. This is also the key reason for the recent strength in Canadian dollar. At the meeting next week, we expect the central bank to leave the policy rate unchanged at 1.75%.
Upside surprise in GDP growth and strong inflation (hovering about 2%) have offered room to stand on the sideline. Meanwhile, the newly-elected government's fiscal stimulus is expected to support the economy in the coming year. The question, however, is how long BOC can tolerate impacts (i.e. CAD appreciation) of policy divergence.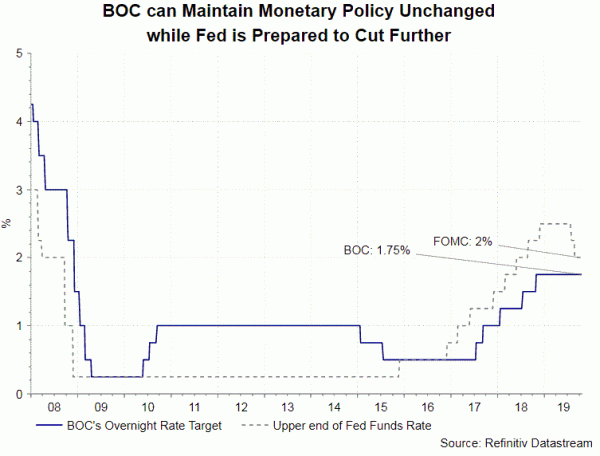 Canada's economy has been resilient. After the disappointment in the first quarter, GDP growth rebounded strong to 0.9% q/q in 2Q19. The economy is expected to have expanded to +0.2% m/m in August, from zero a month ago. While subdued inflation is a headache for most central banks, CPI has been hovering about BOC's +2% target. Both headline and core CPI steadied at +1.9% y/y in September. Meanwhile, readings of BOC's preferred inflation gauges averaged at +2.1% y/y last month.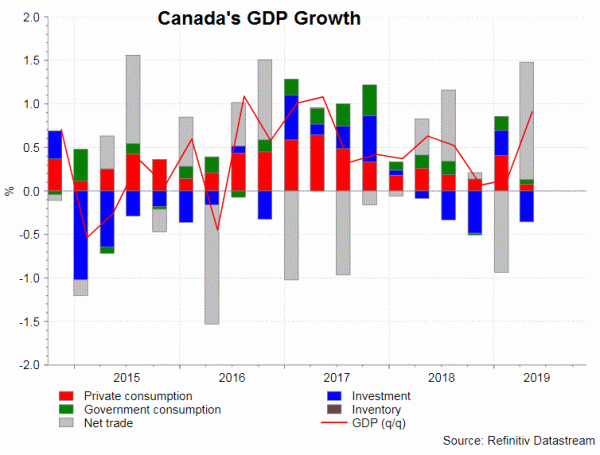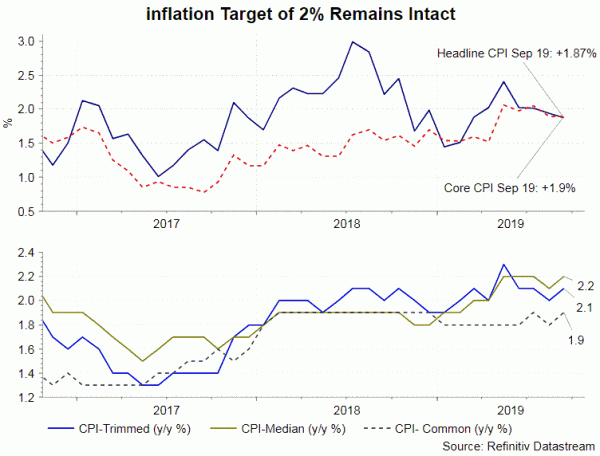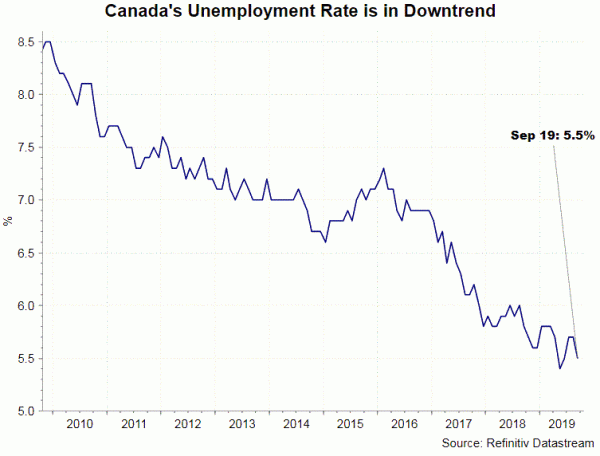 On the job market, the unemployment rate slipped -0.2 percentage points to 5.5% in September. While the increase in payrolls dropped to 53.7K from 81.1K in August, this came in much stronger than consensus of 10K. Resilient wage growth is the reason supporting inflation. Average hourly wage rose +4.25% y/y in September, accelerating from +3.78% in the prior month.
The economic backdrop allows the BOC to keep its powder dry in October, and possibly for the rest of the year. However, ongoing trade war uncertainty and global economic slowdown suggest that Canada's economy will sooner or later be affected. As Canada's largest trading partner, slowdown in US GDP growth could spread to Canada. The following chart shows a positive correlation between US ISM manufacturing index and annual GDP growth in Canada. Meanwhile, monetary policy divergence signals that capital will continue flow to Canada for better yields. Indeed, the narrowing yield spread between USD and CAD has lifted the loonie in recent weeks. The question for BOC is how long it can maintain is monetary policy unchanged without affecting the economy.