It's going to be an action-packed week, with three major central bank meetings and a storm of economic data likely to keep traders glued to their screens. The European Central Bank is unlikely to signal anything radical, so the euro might be driven mainly by the bloc's PMI data. The Bank of Japan meeting could also be a snoozer, though there is a case to be made for the Bank of Canada to adopt a more dovish tone. In Britain, the preliminary PMIs may be the deciding factor of whether the Bank of England will cut rates later this month.
ECB sidelined, eyes on PMIs for rate clues instead
The Eurozone closed 2019 on a more positive note, amid hopes that the uncertainty that almost brought the economy to its knees earlier in the year was finally dissipating. The US-China ceasefire and fading Brexit risks were central to this narrative, as were some early signs from PMI surveys that economic growth was stabilizing after a dramatic slowdown.
Alas, investors seem to be focusing too much on the positives. Growth may be bottoming, but at an alarmingly low level, so there's not much to celebrate. The manufacturing sector is still contracting, and risks remain to the downside with the threat of US tariffs on European cars looming. And while Brexit worries have taken a back seat, that may not remain the case for very long, as the brinkmanship and drama could resume once the EU-UK negotiations restart.
In this light, the European Central Bank (ECB) is unlikely to either do or say much when it meets on Thursday. If there is any change in tone, it might be towards a less dovish one, given the signs of 'green shoots' in the data and deescalating political tensions. Even in this case though, any upside reaction in the euro is unlikely to be large.
Rather, a much bigger force in determining the euro's broader direction will be the preliminary PMIs for January, which are due on Friday. This is probably the most important data set for the direction of monetary policy. If they reaffirm that the economy is getting its feet under it, that could help establish a floor under the euro – otherwise, any more weakness could reignite concerns about a potential recession.
Yen to take its cue from risk appetite, not BoJ
The Bank of Japan (BoJ) will announce its own rate decision early on Tuesday. No action is expected, partly because economic data have improved somewhat – especially on the inflation front – and partly because the government's recent spending package is expected to stimulate growth, allowing the BoJ to preserve some of its limited firepower for a stormy day.
Of course, this wouldn't be any surprise and therefore, the yen is unlikely to react much. Indeed, the safe-haven currency hasn't reacted to BoJ decisions for years now, something likely owed to how loose monetary policy is already. Since there's very limited scope to ease any further, and since tightening policy is out of the question, BoJ decisions and economic data just don't have the same impact on the yen.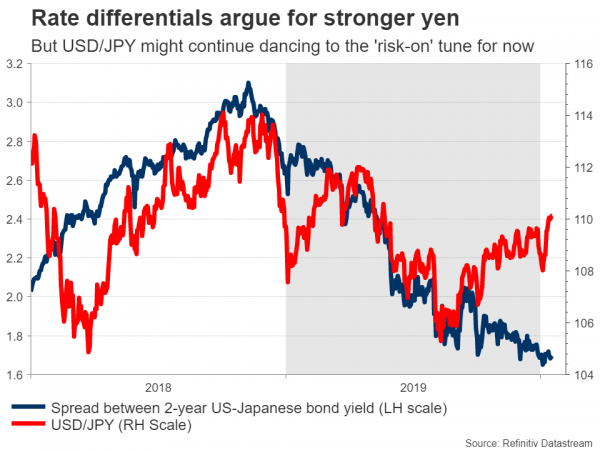 Instead, the Japanese currency will probably continue to trade mainly as a function of risk appetite, given its defensive status. On that front, the near-term risks around the yen still seem tilted to the downside, as the two biggest threats facing global markets – trade and Brexit – have abated and are unlikely to rekindle in the coming weeks. Further out, though, it might be a diff