At the upcoming meeting, ECB members would likely acknowledge stabilization in the region's economy, while reiterating accommodative monetary policy. The focus of the meeting would be the strategic review, the first assessment of the central bank's monetary policy in two decades. We do not anticipate any change in the monetary policy – ECB is expected to leave the deposit rate unchanged at -0.5%. Meanwhile, the main refi rate and marginal lending rate also stay unchanged at 0% and 0.25%, respectively. The pace of the asset purchase program, effective on November 1, also stays at 20B euro per month.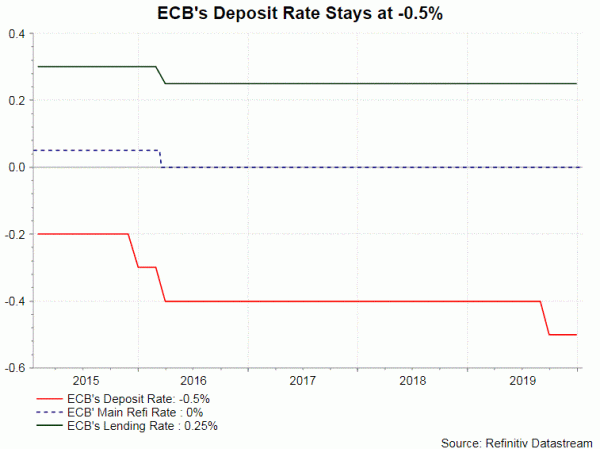 Headline HICP for the 19-nation Eurozone rose to +1.3% y/y, highest since April, in December. Core CPI also steadied at about +1.3% for the month. While staying markedly below ECB's target of +2%, the improvement in headline reading signaled stabilization the region's economy.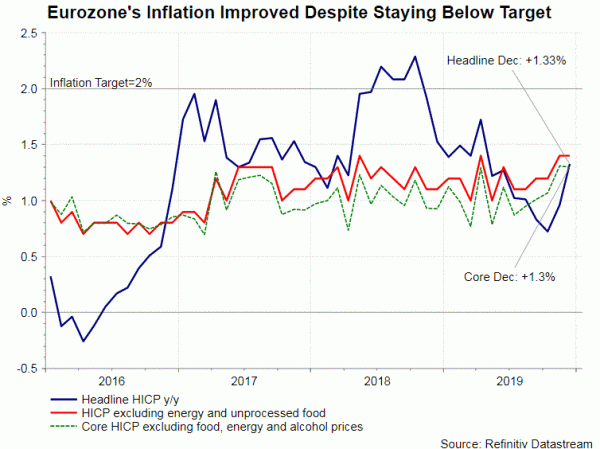 Real GDP expanded +0.23% q/q in 3Q19, up from +0.19% a quarter ago. The biggest contributor to growth was consumption.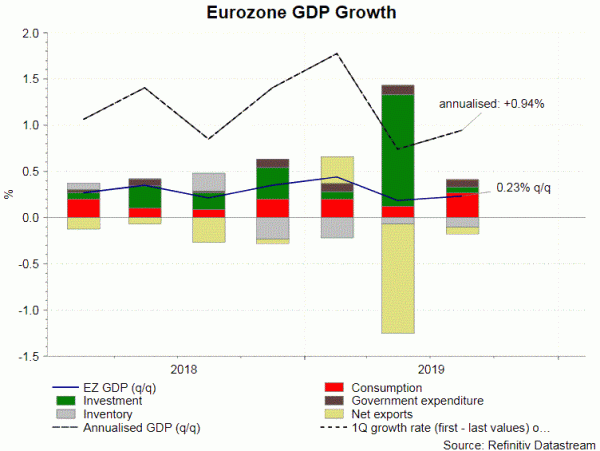 Unemployment rate also dropped to 7.5% in 3Q19, lowest post-crisis level.
On the leading indicator, final composite PMI edged higher to 50.9 in December, compared with flash reading, and November's final reading, of 50.6. The reading marks mild expansion in the economic outlook.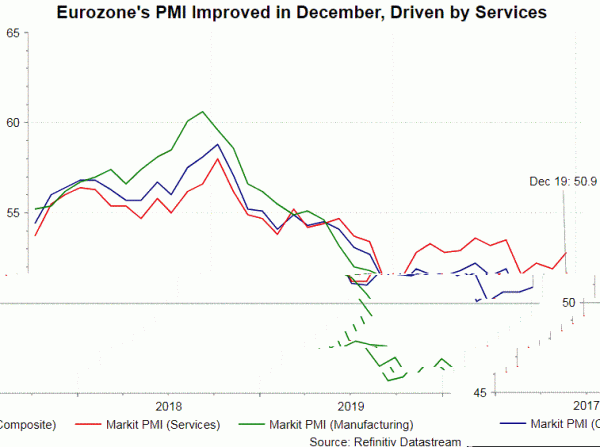 At the minutes for the December meeting, ECB took note of the tentative signs of stabilization in the manufacturing sector and mild spillover to the rest of the economy. The central bank reiterated the growth outlook "remained muted in the near term" and envisaged that a moderate recovery will materialize "later on". It also suggested that economic outlook remained skewed to to the downside but "somewhat less pronounced". We expect ECB will acknowledge that the economic data since the last meeting have shown stabilization. Yet, the members will remain cautious and indicate downside risk to growth.
As noted in the minutes, the present monetary policy stimulus "appeared fully appropriate, lending substantial support to growth and inflation developments. While vigilance on the efficacy of the policy measures and the appropr