Fear of China's coronavirus outbreak was the major theme in the global markets last week. At the time of writing, number of confirmed cases were close to 12000. While the majority of the infected in China, the virus has spread to at least 23 countries already. And, most important, there appears to be no sign of a slow down yet. Global equities suffered crash-mode selloff while safe haven flows pushed bond yields sharply lower.
In the currency markets commodity currencies ended as the weakest naturally, with Australian Dollar leading the way. European majors were the strongest, as led by Sterling. However, it should be noted that after late selloff, Dollar has indeed ended as the fourth weakest. Traders drastically increased their bets on a Fed rate cut, on follow stocks and yields, as well ass worsening yield curve inversion. There are also talks that China wouldn't be able to fulfil it's trade obligations to the US considering the trouble it's facing.
Market pricing in 60% chance of Fed cut by June
Fed funds futures are now pricing in 25.67% chance of a rate cut by Fed in March, up from just 3.84% a week ago. Taking a slightly longer perspective, there is now 59.9% chance of a rate cut by June meeting, up from 28% a week ago, and 14% a month ago. Such drastic change in expectation is believed to be the main drive of the late selloff in dollar.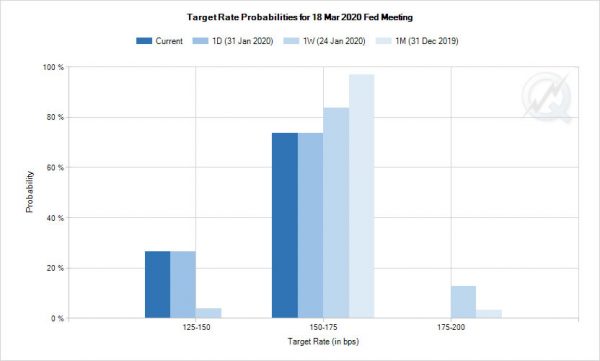 DOW at important juncture after steep selloff
In the background, US stocks suffered steep selloff over the week, especially on Friday. DOW's decline from 29373.62 extended lower to close at 28256.03, below 55 day EMA. The development is not too bearish yet as it's holding above 38.2% retracement of 25743.46 to 29373.62 at 27986.89.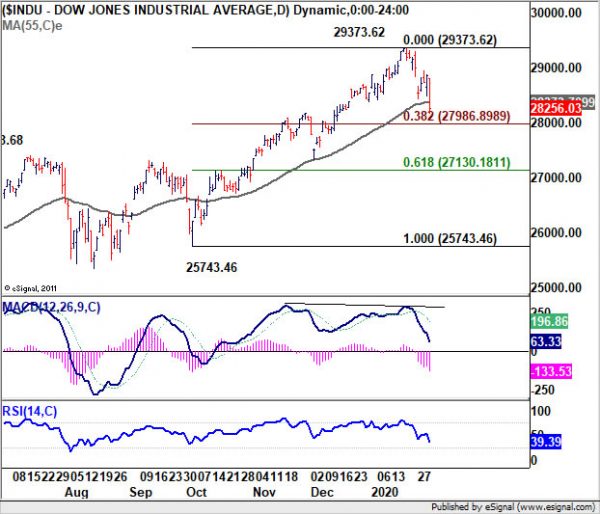 However, if there is no positive breakthrough in halting the coronavirus outbreak, the above mentioned fibonacci support would likely be taken out with ease. That would in turn argue that fall fro m29373.63 is corrective the whole rise from 21712.53. In that case, a test on 55 week EMA (now at 26920.27) should at least be seen.