RBA to Keep Powder Dry Next Week, Could Push Forward Rate Cut to April
RBA is expected to leave the Bank rate unchanged at 0.75% in March. However, disastrous coronavirus outbreak in China is expected to hurt Australia's economy, triggering the members to push forward further easing in as soon as April. Indeed, the market has priced in 60% chance of a rate cut in April, up from 25% a week ago.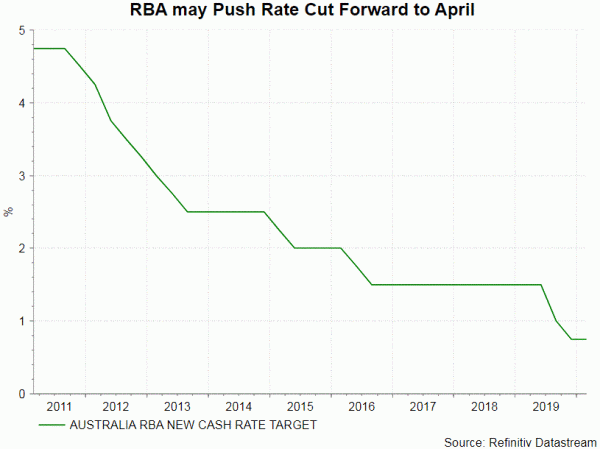 Lowering the unemployment rate to a long-term target of 4.5% is a key goal of RBA's monetary policy. On the job market, the unemployment rate increased +0.2 percentage point to 5.3% in January. This came in slightly higher than consensus of 5.2%. The number of jobs gained +13.5K, better than consensus of +10K and January's +28.9K. Full time payrolls rose +46.2K, following a -0.3K drop in December.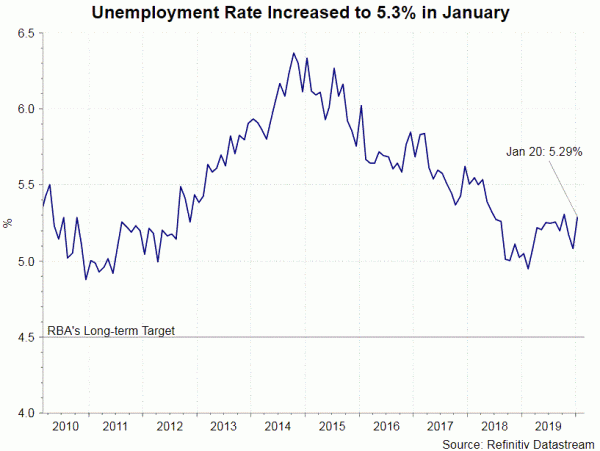 GDP growth is expected to be steady, expanding at a below-growth rate of +0.4% q/q, in 4Q19. Yet, there have been growing expectations that Australia will contract in 1Q20. Two of the big four major banks in the country, ANZ and NAB, are forecasting that Australia's economy will contract in the first quarter. Apart from impacts from bushfires, ANZ projects that coronavirus outbreak should have cut 1Q20 GDP by -0.5 percentage point. The bank forecasts the economy to contract -0.1% in the first quarter. NAB also expects negative growth in the first quarter, though it has not provided a figure yet. Chief economist Alan Oster suggested that the question is whether it is a big negative or a small negative.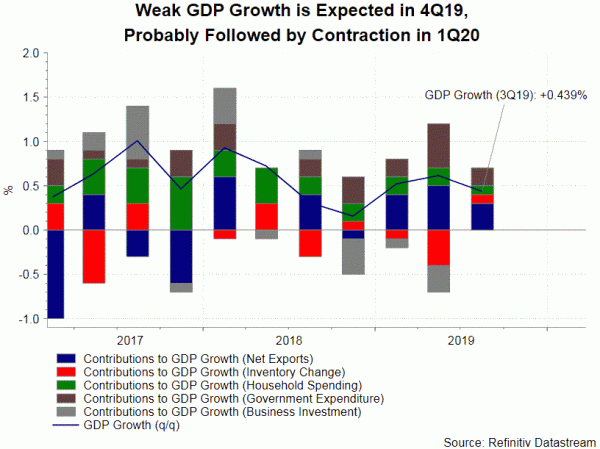 Australia's composite PMI fell to 48.3 in February from 58.2 a month, suggesting the overall economic activities dropped to contraction this month. Looking in details, both services and manufacturing activities were in the contractionary territory. As noted in the accompanying statement, flash PMIs "imply a contraction in private demand. Whilst this is clearly a disappointing result, it is not altogether surprising given the two exogenous shocks that have hit the Australian economy – the bushfires and the coronavirus".
However, RBA has to strike a balance between stimulating growth and financial stability. As noted in the February meeting minutes, "a further reduction in interest rates could also encourage additional borrowing at a time when there was already a strong upswing in the housing market".