The world got one big step closer to Wuhan coronavirus pandemic with explosion of number of cases outside China in the past last week. South Korea (3150 cases, 16 deaths), Italy (888 cases, 21 deaths) and Iran (388 cases, 34 deaths) are now the new epicenters, while Japan (235 cases and 5 deaths) is not far behind. Fear global recessions prompted steepest selloff in stocks since 2008 financial crisis. In particular, gold also lost its safe haven status and suffered the worst decline since 2013. Also traders and investors are in panic.
In the currency markets, Australian Dollar was the worst performing one even though corona virus cases are just limited to 25. New Zealand Dollar followed as second weakest while Canadian Dollar was the next, as pressure by free fall in oil prices. Yen reversed its fortune and ended as the strongest one, followed by Euro and then Swiss Franc. Euro was indeed helped by some selling pressure in Dollar, bets on a March rate cut surged sharply. Traders are seeing near 100% of -50bps cuts to 1.00-1.25%.
For the near term tough, DOW and Gold are both close to important support zones. Last week's could also be partly due to month end adjustments. There is prospect of stabilization of risk sentiments initially this week. But what's next will very much depends on how quickly the coronavirus spreads, and how well is China's productions resume.
Some suggested readings:
DOW close to key support zone after the worst week since 2008
DOW registered the worst week since October 2008 after losing 3583 pts to close at 25409.36. S&P 500 and NASDAQ also had the worst week since the global financial crisis. Nevertheless, a recovery of some sort should be due considering that DOW is now in proximity to a key support zone. The levels are 38.2% retracement of 15450.56 to 29568.57 at 24175.49 and long term trend line support. The coming recovery could provide some hints on the length and depth of the current correction.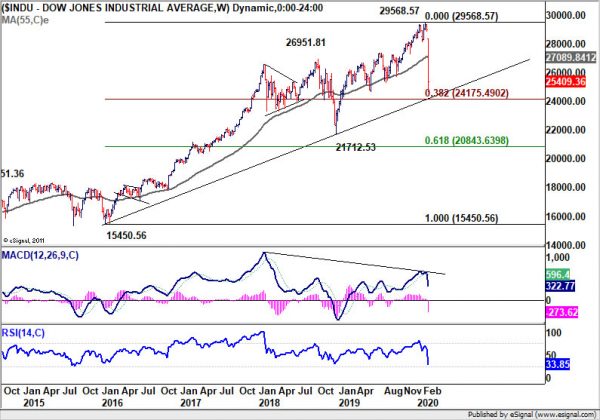 However, sustained strong break of 24175.49 could open up the case of long term correction, to up trend from 2009 low at 6469.95 to 29568.57. The correction target could then be 38.2% retracement at 20744.89.