As markets deal with the real threat of surging coronavirus cases, the risk-sensitive Australian dollar will be looking at several indicators coming out this week and the following Monday out of Australia and China. The Australian inflation report is due on Wednesday at 0430 GMT, while China's NBS and Caixin/Markit manufacturing PMIs are coming out on Friday (0430 GMT) and next Monday (0145 GMT), both of which come into the spotlight for traders.
In the previous quarter, the annual inflation rate in Australia reached the Reserve Bank of Australia's (RBA) target, for the first time since early 2018, reflecting the impact on prices of the bushfires and the Covid-19 outbreak, rising to 2.2% in Q1. The headline consumer price index (CPI) rate is expected to fall to -0.4% y/y in Q2 and the trimmed mean rate is predicted to decline to +1.4% y/y from 1.8% previously. On a quarterly basis, inflation is forecasted to slip by -2% from 0.3% before. The currency is trading in overbought conditions above $0.71 so a correction may be on the cards on weaker-than-expected data.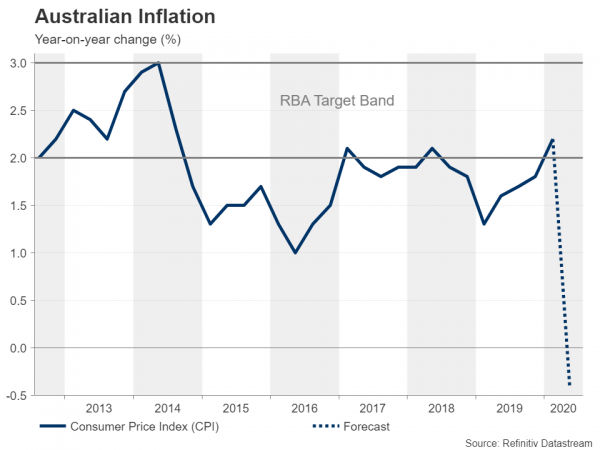 Interest rates remains unchanged
In the latest policy meeting the RBA left its cash rate unchanged at a record low of 0.25%. Policymakers have made it clear that the economy is going through a very tough period and is experiencing the biggest economic contraction since 1930. They also referred that the nature and the speed of the recovery is uncertain, despite some signs of improvement in recent weeks. The Bank is ready to scale-up its bond purchases once again and will ensure that bond markets will remain functional and achieve the yield target for three-year Australian Government Securities (AGS).
Is China's manufacturing expansion driving Aussie higher?
Another factor in the aussie's favor has been the encouraging data coming out of China – Australia's largest trading partner. Activity in China's manufacturing sector expanded at a faster pace than expected in June. The official manufacturing PMI by the National Bureau of Statistics unexpectedly rose to 50.9 in June and is now predicted to climb to 51.0, while the non-manufacturing increased to 54.4. This marked the fourth consecutive month of growth in the service sector and the strongest since January.
The Caixin China General Manufacturing PMI rose to 51.2 in June. That was the highest reading since December last year, supported by the recent easing of Covid-19 measures. In July, the forecast is an increase to 51.5, which would be the fourth straight month of growth, and possibly send the aussie above $0.72 if confirmed.