U.S. Review
Better Numbers
Nonfarm employment rebounded in January, with employers adding 49,000 jobs following the prior month's 227,000-job drop. The annual revisions to the prior data provide a more accurate assessment of job losses during last spring's lockdown, as well as the subsequent recovery. Job losses in March and April of last year were 202,000 jobs larger and the recovery has been slightly stronger. The unemployment rate fell to 6.3%.
Manufacturing, construction and logistics continue to lead the recovery, which looks more like an old-school variety rebound. While the ISM manufacturing index declined in January, it remains relatively high at 58.7 and the ISM services survey rose to that same level. Both are consistent with strong economic growth. Severe supply-chain disruptions are bolstering both surveys. Nonfarm productivity plummeted 4.8% during the fourth quarter and unit labor cost surged 6.8%. Labor costs are likely to put pressure on operating margins this year, even though there is still considerable slack in the labor market.
Global Review
International Growth Outlook Still Mixed
PMI data in China indicate renewed restrictions in small provinces outside of Beijing are having a modest impact on the Chinese economy. China's economy is still outperforming, but prolonged lockdowns could introduce risks to the economy. Eurozone growth and inflation data beat expectations to the upside; however, these data should not be interpreted as the broader European economy recovering from COVID quite yet.
The Reserve Bank of Australia's monetary policy meeting this week yielded an ultra-dovish response as the central bank opted to double the size of its asset purchase program. Prior to the meeting, we were optimistic regarding Australia's economic prospects, and with more bond buying to materialize, there are upside risks to our GDP forecasts.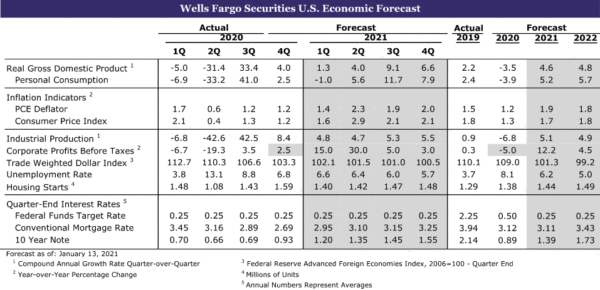 U.S. Review
Slight Better Numbers to Start the Year
While this morning's 49,000-job rise in nonfarm payrolls came in below expectations, it still marked an improvement from the prior month's 227,000-job decline. The consensus called for a 105,000-job gain. Our own forecast called for a more modest 60,000-job increase. The range of forecasts was unusually large this past month, because the January data include annual revisions to the past two years' data. Those revisions showed the economy and labor market were stronger than previously thought prior to the pandemic and that the job losses during the March and April lockdown were nearly 202,000 deeper than first reported. The recovery was also modestly stronger, but the slowing over the past three months, which saw a resurgence in COVID infections and a pullback in economic engagement, was also more pronounced, with an average of just 29,000 jobs added per month since October.
January's employment data often deal with huge seasonal payroll shifts in retail trade, couriers and messengers (delivery services), warehousing and storage, and private and public education. That was certainly the case this year, with the former three subtracting 68,900 jobs from the overall gain and the latter adding 119,400. Excluding these exaggerated seasonal swings, nonfarm payrolls would have declined slightly in January.