U.S. Highlights
First-quarter consumer spending growth was revised up to an even better 11.3% (annualized). Monthly data showed that nominal spending rose 0.5% in April, but inflation-adjusted (real) spending ticked down a touch (-0.1% m/m).
The Fed's preferred inflation gauge, core PCE, rose to 3.1% year-over-year in April, breaching the 2% target for the first time since 2018. Speeches from Fed officials earlier in the week helped calm inflation fears.
Canadian Highlights
This was quiet week in terms of economic data, but it was still an eventful one. The vaccination campaign reached an important milestone, with over half of Canadians having received at least one dose.
With vaccination rate moving higher and health indicators improving, provinces continued to roll out their reopening plans. This week we saw plans from governments of Alberta, British Columbia, New Brunswick, and Prince Edward Island.
Global -G7 Close to Agreement on International Tax Reform
G7 nations appear close to an agreement on a global minimum corporate tax that could pave the way for a larger deal among G20 nations in July.
The U.S. is in favor of a global minimum tax as it would prevent the administration's planned increase in the corporate tax rate from 21 to 28% from eroding the country's international tax competitiveness.
U.S. – Core PCE Inflation Shoots Above Symmetric Target
A second reading on U.S. economic growth this week left the first quarter print unchanged at a healthy 6.4% (annualized), even as the underlying components shifted. Downward revisions to exports and inventories were offset by upward revisions to business investment and consumer spending. Growth in the latter was upgraded to an even better 11.3% from 10.7% initially, thanks to a stronger showing in goods spending.
Today's report on personal income and spending provided additional insight on the monthly trend through April. Nominal personal income fell by 13.1% last month, reversing part of the double-digit increase in March that was due to a large infusion of fiscal stimulus. Despite this, nominal personal consumption expenditures (PCE) rose by 0.5% as an improving employment backdrop, plenty of accumulated savings and easing fears regarding the pandemic lifted services spending by 0.6%. Stripping away price effects, real spending edged down 0.1% on the month, but following an upwardly revised gain of 4.1% in March, the second quarter is still in good shape.
Indeed, consumer spending stands to benefit from the pandemic's loosening grip on the economy. New COVID-19 cases have fallen from around 260k/day in early January to just 23k/day recently – a massive improvement. A continuation of this trend should lead to the removal of even more restrictions across states in the coming weeks. This bodes well for services spending, which is still below its pre-pandemic level (Chart 1). Improved demand for services will also lend a hand to the sector's employment recovery.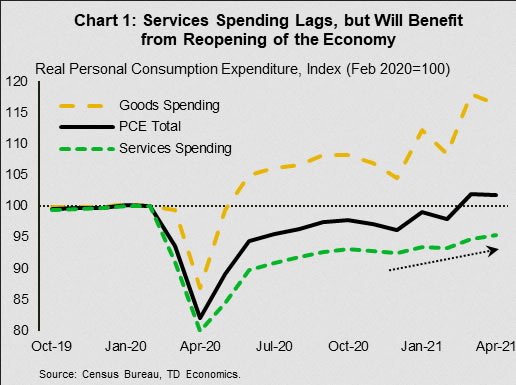 The other item highlighted in the personal income and spending report was inflation. Headline PCE inflation rose to 3.6% year-over-year in April, a notable acceleration from March. Meanwhile, core PCE inflation, the Fed's preferred inflation gauge, rose to 3.1% y/y – breaching the 2% target for the first time since 2018 (Chart 2). Concerns over rising inflation have led to some market volatility in recent weeks, but the Fed maintains that large price increases will be 'transitory'. Earlier in the week, a series of speeches from Fed officials drove that point home, with Fed Governor Lael Brainard expressing confidence in the Fed's ability to "gently guide inflation back to target" should it need to. This helped soothe inflation fears ahead of today's print. Positive equity market reaction this morning suggests that, for now, investors may be buying into the Fed's narrative.