Whilst currency markets paused for breath overnight, much of the Asian share market was trading lower ahead of today's open.
Asian Indices:
Australia's ASX 200 index fell by -113.4 points (-1.54%) and currently trades at 7,228.00
Japan's Nikkei 225 index has fallen by -507.23 points (-1.8%) and currently trades at 27,608.05
Hong Kong's Hang Seng index has risen by 177.58 points (0.65%) and currently trades at 27,330.71
UK and Europe:
UK's FTSE 100 futures are currently down -3.5 points (-0.05%), the cash market is currently estimated to open at 7,027.16
Euro STOXX 50 futures are currently down 0 points (0%), the cash market is currently estimated to open at 3,991.66
Germany's DAX futures are currently up 6 points (0.04%), the cash market is currently estimated to open at 15,426.64
US Futures:
DJI futures are currently down -259.86 points (-0.75%)
S&P 500 futures are currently down -43.75 points (-0.3%)
Nasdaq 100 futures are currently down -11.5 points (-0.27%)
Asia in the red, futures point lower
Rising coronavirus cases continued to weigh on Asian equity markets, with Japan's markets on track for their worst week in a year and South Korea's on track for its worst week since February. The FTSE 100 managed to close just above 7,000 after a brief spell beneath it, ad closed below its 50-day eMA for the first time since February. With futures markets pointing lower is suggests a weaker open for cash indices so, unless we see any signs of risk appetite emerging traders may favour selling into minor rallies if they occur. A break above 7075 today invalidates that bias.
In yesterday's report we noted that the STOXX 50 had drifted towards a key support zone and that we were waiting for "momentum to tip its hand". Well, the clear break beneath 4020 support certainly did just that, so we have now switched to a bearish bias. Although the caveat ties in with today's video, in that we are yet to see if the holding patterns seen across Asian trade is a pause in breath before further losses, or the beginnings of a sympathy bounce. Therefore, traders would be wise to keep an eye on AUD/JPY and yields to assess which way equities will break today.
Yesterday's low respected the lower trendline of its bearish channel, so if we see prices ounce then 4020-4040 is a key resistance zone today for bears to consider fading into (prior support, 200-hour eMA, weekly S2 and monthly S1 pivots).
FTSE 350: Market Internals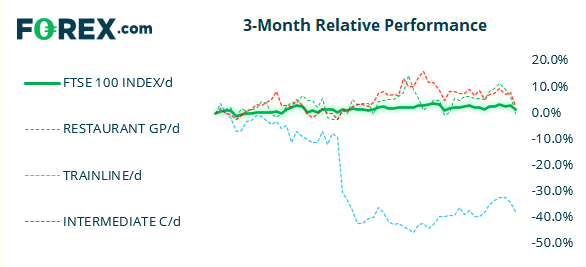 FTSE 350: 4035.66 (-1.68%) 08 July 2021
27 (7.69%) stocks advanced and 317 (90.31%) declined
18 stocks rose to a new 52-week high, 4 fell to new lows
81.2% of stocks closed above their 200-day average
19.09% of stocks closed above their 20-day average
Outperformers:
+ 2.20% – Auction Technology Group PLC (ATG.L)
+ 1.33% – Easyjet PLC (EZJ.L)
+ 1.27% – Cairn Energy PLC (CNE.L)
Underperformers:
-6.01% – Restaurant Group PLC (RTN.L)
-5.40% – Trainline PLC (TRNT.L)
-5.05% – Intermediate Capital Group PLC (ICP.L)
Forex:
GBP pairs will be in focus around a host of UK data points around 07:00 BST. Q2 data showed a record rise of 27.6% as lockdown measures were eased, and today's monthly growth estimates are likely to signal a cooldown of the breakneck speed. Industrial and manufacturing output and trade data are also released, so it could be a volatile hour should data come in heavily skewed above or below expectations.
GBP/CHF probed the May low during its most bearish session since September 2020 yesterday. Whilst it closed just above it, prices are consolidating into a potential bear flag formation ahead of UK's data. So a strong data set could see a bounce from current levels, or send it back beneath 1.2583 should it disappoint enough. GBP/JPY is i