The upcoming week will kick off with a bang as the flash PMI readings for August will flood the markets on Monday. However, it might go all quiet after that before Fed officials gather at Jackson Hole later in the week for this year's economic symposium, which is set to be dominated by discussions on how and when to unwind the Fed's emergency stimulus. Will policymakers finally lay out their tapering plans, potentially lifting the US dollar to fresh yearly highs, or will divisions overshadow the event?
Euro breaches $1.17; can flash PMIs lend support?
Intensifying worries that the global economic recovery has hit another major bump on the road as the Delta spread shows no sign of abating has sent markets into a spin in the past week. Everything from stocks, commodities and risky currencies got hammered from the latest panic selling, with investors fleeing to safe havens. As has been the case during this pandemic whenever nerves are heightened, the US dollar has been the main beneficiary of this flight to safety.
The greenback has crushed everything in its way, including the euro, even though not much has changed as far as the policy outlook for the Eurozone is concerned. The ECB's dovish tilts in June and July had already put the single currency on a downward slope but the policy shift is mostly priced in now and it was down to the dollar's relentless charge that the $1.17 support ruptured for the first time since early November.
However, this is mainly of symbolic significance and the euro's losses will likely continue to stay contained relative to its peers'. That's because the Eurozone economy is so far weathering the Delta outbreak better than most, helped not only by a high vaccination rate but also by not abandoning all Covid curbs altogether like Britain, which is keeping the latest virus escalation manageable.
Hence, the flash PMI prints by IHS Markit are expected to moderate only marginally in August, and this would be coming off the 15-year highs for the composite and services PMIs in July. There's no sign yet that the Delta wave poses a serious threat to the Eurozone recovery so unless the PMIs unexpectedly plunge in August, dollar strength will remain the euro's biggest downside risk.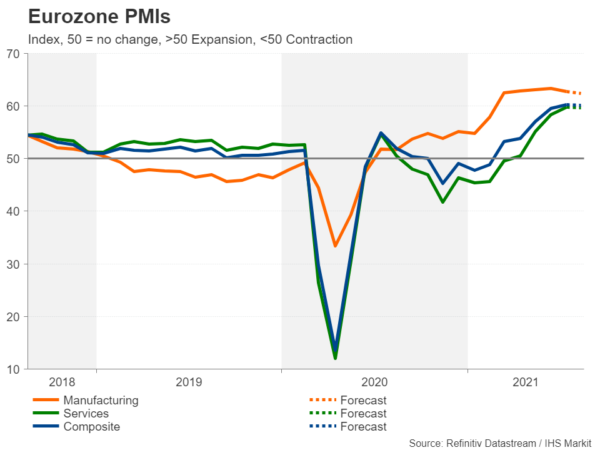 The minutes of the ECB's July policy meeting due on Thursday are not anticipated to generate a huge amount of interest.
Pound caught in Delta storm; PMIs might not offer much relief
Like the euro area, the British economy has also been enjoying strong growth momentum during the summer. Whilst there are some concerns that the UK government is being too lax with virus restrictions and relying on vaccines alone to prevent a surge in hospitalizations, there's nothing too alarming in the medical data yet to prompt a rethink of this approach. The economy has made a strong comeback since the easing of the Winter lockdown and the Bank of England is preparing to end