Draghi's final meeting is just hours away, with several Euro crosses sitting on 'make or break' levels.
For a full preview of what to expect from today's ECB meeting, you can read yesterday's ECB preview by my colleague Fiona Cincotta. Although the basic premise is for Euro to weaken if ECB underdeliver, or strengthen if they come up with the goods. With it being Draghi's last meeting, he could opt to just cut rates and leave the door open for his successor, Christine Lagarde to take over. Unless of course he wants to go with a bang. Either way, the Euro will be the main currency for FX traders to monitor in the upcoming European session.
EUR/CHF remains supported after breaking its bearish trendline on Monday. That said, we've seen a Rikshaw Man doji to show a hesitancy to break higher, followed by a bearish outside day to warn of a correction. Yet whilst it remains above the 1.0882 low, we suspect a reversal is underway, given the bullish divergence ahead of the trendline break.
We'd like to see Monday's low at 1.0888 to hold as support, and could provide an area to buy dips post-shakeout if volatility erupts before direction takes off.
As clear break of Monday's low assumes ECB delivered, and could head back to the lows. Which will be interesting, given SNB have intervened with the Swiss franc to help cushion the fall on EUR/CHF.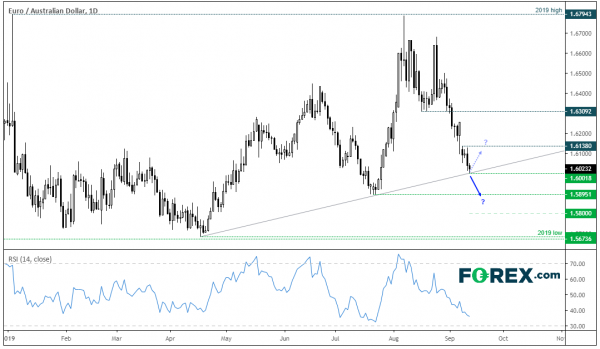 EUR/AUD is currently testing the bullish trendline from the April low, and currently forming a spinning top ahead of the ECB meeting (we doubt it will maintain this pattern to the close). As it's testing its trendline, it could be argued the optimal trade were if the ECB is to disappoint and send EUR/AUD higher.
Bulls could consider entering long above the trendline (if ECB disappoints and sends Euro broadly higher) and initially target the 1.6138 high.
Given the pair's ability to produce large swings, a break above 1.6138 could suggest the low is in and bulls could push it back towards 1.6309.
If ECB deliver the goods, we'd expect the trendline to break and for prices to test the 1.5895 low. A break of which would bring 1.5800 and the 2019 low into focus.
With no signs of a bullish divergence of trough forming on price action, a trendline break could be on the cards whilst prices remain below 1.6138.