Rates: PMI's and ECB left no significant traces on bonds
Yesterday's PMI's didn't really convince, notably in Germany, but were quickly categorized by markets. Draghi's last (pro forma) meeting didn't really impact bond trading in a lasting way either. Core bonds are treading water this morning and other than a stable expected German Ifo-indicator there's little to change that going into the weekend.
Currencies: Euro eases (albeit modestly) on soft EMU PMI
The euro traded with a downside bias yesterday. Disappointing EMU PMI's and a soft eco assessment by Draghi provided a good enough excuse for short-term profit taking. Today, the calendar is thin. A very strong IFO is probably needed to revive recent constructive euro momentum. At the same time, we don't expect big USD gains ahead of next week's Fed meeting
The Sunrise Headlines
WS closed higher (up to 0.81%) amid solid earnings reports, except for DJIA. Asian markets are trading mixed following Pence's speech and reluctancy to make big bets ahead of key central bank policy meetings next week.
US vice president Pence accused China of curtailing rights and liberties in Hong Kong. He offered a trade related olive branch to balance his criticism though. His remarks were later welcomed by Chinese state media.
Boris Johnson's bid to break the three year-long Brexit nightmare with early elections on December 12, were thrown into doubt after Labour Party Leader Corbyn demanded to rule out a no-deal withdrawal first.
Trade unions in Italy join forces for today's "Black Friday" strike. The mayor of Rome, Five Star Movement's Virginia Raggi, is under pressure to resign amid protests over poor pay and working conditions.
The Bank of England proposes to cut capital requirements for credit unions, aiming to tackle barriers to growth and boost competition in lending.
South Korea's finance minister said the country is abandoning its developingnation status at the WTO and no longer seeks special treatment in future negotiations given its enhanced global economic status.
Today's economic calendar is quite thin with some earnings reports due. Germany's IFO survey will be closely watched for signs of any stability in the economy. Italy taps the bond market.
Currencies: Euro Eases (Albeit Modestly) On Soft EMU PMI
Euro eases on disappointing PMI's and soft Draghi
EUR/USD fell prey to further profit taking yesterday. The EMU PMI's disappointed again, indicating that a sustained recovery isn't around the corner yet. The positive dynamics in the Brexit process also stalled. Still, EUR/USD tried an intraday up-move ahead of the ECB press conference. ECB's Draghi highlighted persistent risks to the economic outlook and reiterated the economy needs ample monetary (and fiscal) stimulus. His message wasn't new, but the EUR/USD turned back south and closed at 1.1104 (from 1.1130). USD/JPY (close 108.60) show no clear trend as (slightly) lower core yields and a decent equity performance kept each other in balance.
Asian equities are trading mixed to slightly lower. US officials continue to speak positively on a US-China trade deal, but relations between the two countries stay under pressure due to the Hong Kong protests. The yuan (USD/CNY 7.0725) is trading marginally softer on USD 'strength'. EUR/USD struggles not to fall below 1.11. USD/JPY is holding in the 108.60 area as investors look forward to next week's BOJ meeting.
Today, the eco calendar is thin except for the German IFO business climate. The consensus expects stabilisation at a low level. After the disappointing German/EMU PMI, a big positive surprise is probably needed to convince investors that the economy might be bottoming and to trigger a further rise in yields or the euro.
The EUR/USD picture turned more constructive as the pair settled above 1.10 but follow-through gains stay modest. Brexit uncertainty hasn't been removed (yet?). At the same time, the dollar probably won't make much headway ahead of the Oct 30 Fed meeting. This should give EUR/USD some downside protection. Intermediate resistance comes in at 1.1178 ahead of the 1.1250 level.
Sterling trade with the slightly negative intraday bias yesterday as there was no further apparent progress in the Brexit process. The UK currency spiked lower on headlines that UK PM Johnson might call an election on Dec 12. However, for now, there is probably no majority to support this scenario. EUR/GBP closed the day at 0.8641 (from 0.8620).
Today (and over the weekend) the EU will have to decide on (the length of) a Brexit delay. Uncertainty on new elections probably doesn't help sterling shortterm. We maintain the view that already quite some good news is discounted for sterling short-term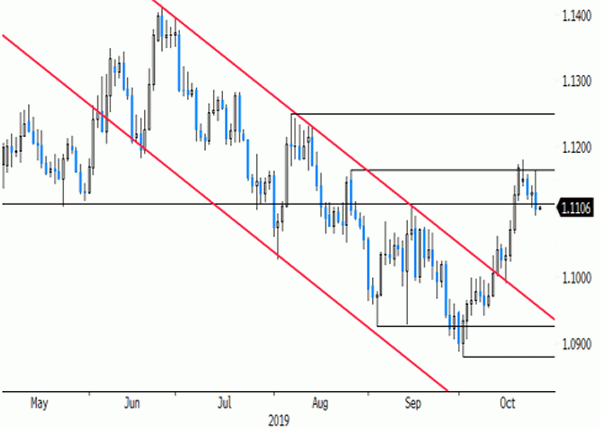 EUR/USD: drifting lower on disappointing EMU PMI