While 2019 was a turbulent year to be sure, every asset class still managed to end in the green, mainly thanks to central bank stimulus. In the FX space, the winners were the Canadian dollar and British pound, the US dollar was almost flat, while the euro underperformed. Looking into 2020, many risks still hang over the euro as the Eurozone is hardly growing, and while many strategists are calling for the dollar's demise, that seems unlikely unless the Fed starts cutting again. The yen may have a cold start to the year but eventually recover, as Brexit risks resurface and US election uncertainty sets in.
Does 'king dollar' still reign?
The world's reserve currency is set to end the year – and the decade – on a high note. Yes, the dollar did surrender some ground to the British pound and Canadian dollar in 2019, but it was higher against many other peers, advancing by 2.6% against the euro for instance. This, despite a dramatic U-turn by the Fed, which abandoned its hiking cycle and instead cut interest rates three times to cushion America from the trade war and a slowing global economy.
Simply put, the US economy was an attractive destination for capital flows. Even accounting for the Fed cuts, America still offers much higher rates than most other G10 economies, a safe environment, and faster economic growth.
Now the question is whether this can continue in 2020. Crucially, many strategists are calling for losses, on expectations that the improved mood on trade will diminish the dollar's haven appeal, a pick up in global growth will make the US less attractive by comparison, and uncertainty surrounding the presidential election will add a risk premium to the dollar.
While these are valid arguments, the real question is, where else can investors hide? Replicating the dollar's high-yielding but safe-haven status is a difficult task. And for all its troubles, the US economy is still miles ahead of Europe – which is barely growing and is mired in structural and institutional problems. Low-yielding Japan is equally unattractive without a risk-off episode, while emerging markets seem particularly risky in an unstable trade environment.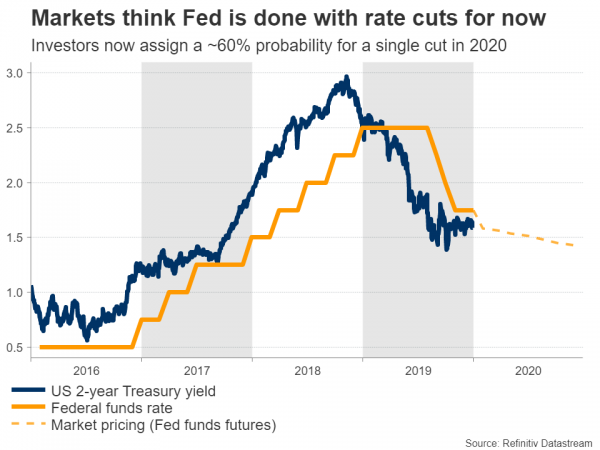 Unless the Fed starts cutting rates aggressively and erodes the dollar's rate advantage, or Germany announces a big fiscal spending package to boost the struggling euro area (see below), it's difficult to envision any real downside in the greenback. Neither of those seems likely, over the coming months at least.
Euro waiting in the rain for fiscal stimulus – delays expected
The euro area had a troublesome year, with growth slowing as Brexit uncertainties and trade risks brought the bloc's manufacturing sector to its knees. The situation was dire enough for the European Central Bank (ECB) to relaunch its Quantitative Easing (QE) program only nine months after terminating it.
While growth now seems to be bottoming out, it is stabilizing at a very low level, so there isn't much to celebrate. What's more, European monetary policy is near its limits after years of heavy money printing, so more ECB stimulus – like bigger QE injections – will probably not do much to boost the economy. Rather, large fiscal stimulus is needed, but the only country with any real fiscal room is Germany, and Berlin has been painfully clear it has no intention of launching a major fiscal package.
Without such a spending package, growth is likely to stay anemic. Not to mention other risks, like the White House turning its sights to trade with Europe now that there's a ceasefire with China. The top US trade official, Robert Lighthizer, recently said that America's large trade deficit with the EU "can't continue", which may be a prelude of things to come.
And while investors have taken a more positive stance on Brexit lately, helping the euro recover, it may be just a matter of time until the threat of a no-deal exit comes back on the table (more below). All told, the euro will likely remain a funding currency in 2020, and persistent economic weakness could even see the ECB ramp up its QE dosage, which could keep the single currency on the back foot absent a serious fiscal package.
No end in sight to Brexit drama but BoE policy could also steer pound
After a tumultuous 2019, 2020 could be the year Brexit finally gets resolved. However, given that British PM Boris Johnson didn't waste any time after his landslide election victory in setting a tight deadline of D