We'll get some early indications of how re-imposed virus containment measures are affecting Europe with the release of advance PMI survey data next week. The resurgence of COVID 19 there, and re-introduction of more significant restrictions on businesses and individuals, could foreshadow what's to come in Canada given the rapid rise in case counts here. Even in harder-hit European regions, lockdowns have been less stringent than in the spring and the manufacturing sector likely continued to improve into November, if at a slower rate. But the service-sector has likely slowed down more significantly after most areas imposed at least some limits on social gatherings and the hospitality sector. October's PMI readings for the UK and Euro area already showed some signs of that "two-speed economy", as services providers reported the worst contractions in business conditions since early summer.
We expect the US manufacturing sector to have continued to improve in November, despite escalating virus spread. Those gains will come after a solid increase in industrial output in October. Canada is not among the countries to get an early look at PMI data, but we expect the advance estimate of October manufacturing sales will still show further improvement in the sector after a 1.5% increase in September. As in other countries, the latest round of containment measures in Canada have targeted businesses like restaurants, gyms, and meeting halls. And prospects for the Canadian manufacturing sector are always tied closely to those of the US, where activity has improved.
Another round of positive vaccine news over the last week has brightened the light at the end of the tunnel, but COVID-19 case-counts and hospitalization rates will continue to be the most important indicator of how difficult it will be to get there.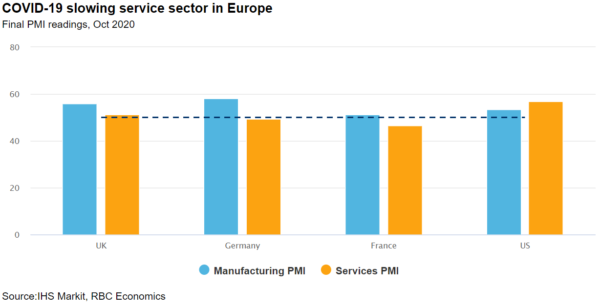 Week ahead data watch:
We will receive the September Survey of Employments, Payrolls and Earnings (SEPH) data next week, which will be a bit outdated but should still offer meaningful insights to wages and income trends in that month.
Next Tuesday brings US consumer confidence data for November and personal income and expenditure for October, both of which should be useful in gauging spending trends after a softer retail sales in October.