Big tech report whilst hovering around all time highs
Heading towards US tech stocks earnings seasons the Nasdaq is trading around its record high record high.
The reflation trade is in retreat. Growth expectations have soured, reflected in falling US treasury yields which tumbled to a 4-month low last week, reigniting the rotation back into high growth tech stocks and boosting the Nasdaq to a fresh all-time high earlier this week.
With US big tech trading at all time highs ahead if earnings expectations are high and concerns are circling that the good news is already prices in.
Earnings season
Expectations are high. Bloomberg forecast 65% growth in EPS in SP500 companies. Tech are are expected to lag other sectors with a 31% increase in earnings.
However, it's worth keeping in mind that tech stocks will mainly be up against tougher comparisons from last year than in the previous quarter as these are the stocks which shone across the pandemic amid the WFH dynamic and accelerated digitalization.
Big tech to watch in earnings:
Netflix – July 20
Netflix is up against some extremely tough year ago comparisons. Streaming subscriptions surged in Q2 2020 in lockdown. Netflix added 10 million new subscribers in the Q2 last year pulling in almost 26 million subscribers in the first half of last year. Management at Netflix believe that a lot of demand for streaming was pulled forward to 2020, explaining why Netflix added just 4 million in Q1 2021 and why Netflix is guiding for just 1 million new subscribers in Q2 2021. Guidance for Q3 could start to normalise. Any news surrounding the new gaming direction will be in focus.
Where next for Netflix share price?
After hitting an all-time high of 593 at the start of the year, Netflix formed a series of lower highs, before finding a floor at 475. The price has rebounded of this level and has continue to trend higher, pushing back above the descending trendline and the 50 & 200 dma. The RSI suggests there could more upside to come whilst it remains out of overbought territory. Buyers could look for a move over 565 in order to attack 592 and look towards a new all-time high. Sellers could look for a move below 515 to negate the near-term uptrend.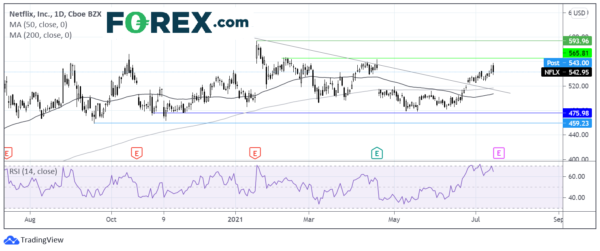 Apple – July 27
Fiscal Q2 was a stellar quarter for Apple. Revenue roared 54% in Apple's fiscal second quarter reported in April, and EPS came in at $1.40 versus $0.99 forecast so the bar is set high. That of course was an easy comparison for the year earlier.
iPhone 12 sales as always are going to be in focus with expectations for some resilient numbers. The higher end product line up is expected to outperform, which should be good news for margins. Furthermore, the fast growing services businesses has been boosting gross profit margins as the margins are about twice that of its product business.
Also let's not discount the iPad, iPad sales have surged in recent quarters amid the WFH trends. After the new M1 equipped iPad pro in released in April could the iPad outshine the iPhone this time? Q3 revenue is expected to rise 22% YoY, up against a tougher comparison, although this would still be tied for Apples second largest growth rate in many years. Wall Street expects EPS $0.99 on revenue of $72,780 million
Where next for Apple share price?
Apple traded between $115 and $140 for most of the first half of 2021. In early June Apple share price rebounded off the 200 dma and has powered higher breaking out beyond the previous al time high of $145 to $150. The RSI has moved into over bought territory so some consolidation or a move lower could be on the cards. As long as the price holds above $145 fresh all time highs could be reached.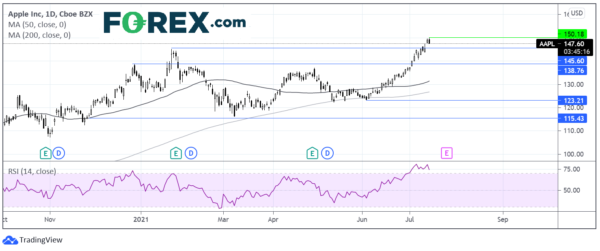 Microsoft – July 27th
Microsoft has surged across the year. The share price has regularly hit fresh all-time highs one month after another. Q3 saw a 38% rise in profits to $14.8 billion compared to the same period a year earlier. Gains were broad based across the business with the working from home dynamic, Xbox X gaming console boosting sales. Fiscal Q4 will be under the microscope due to its Window 11 upgrade. is set to have expected torpor revenue growth of 16% in its June quarter on EPS of $7.77
Where next for Microsoft share price?
Microsoft has rallied 14.5 % across the quarter against the S&P500 8% gains. The share prices trades within ascending channel even breaking out briefly above the upper band of the channel, in a strong bullish trend. Watch for overbought conditions on the RSI. Bulls are firmly in control it would take a move below 260 to negate the near term up trend.