Summary
United States: Summer Hiring Heats Up
Data this week highlighted the economy's resilience in the face of ongoing supply constraints, while financial markets weighed the impact of the Delta variant wave on the outlook for the economy and Fed policy. ISM surveys for the manufacturing and service sectors continued to show businesses' ability to operate in this supply-strained world, with the latter hitting a new record high. Finally, this morning's virtually blemish-free employment report marked a big step down the road of "substantial further progress."
Next week: CPI (Wednesday), U. of Mich. Consumer Sentiment (Friday)
International: China Hit by COVID; Brazilian Central Bank Picks Up Pace of Tightening
The spread of the Delta variant has hit China, and in response, authorities have reimposed restrictions. Also this week, the Brazilian Central Bank signaled it will become more aggressive in tightening monetary policy as the fight against inflation persists.
Next week: Mexico CPI (Tuesday), U.K. GDP (Thursday), Central Bank of Turkey (Thursday)
Interest Rate Watch: The Bank of England Turns a Bit More Hawkish
As widely expected, the Monetary Policy Committee (MPC) at the Bank of England (BoE) left its main policy settings unchanged at its meeting this week, keeping its Bank Rate at 0.10%.
Credit Market Insights: What Will Happen When Pandemic Emergency Programs End?
The recent housing market frenzy in the United States, driven by people seeking more space and refinancing in this low mortgage rate environment, led mortgage debt to jump 2.8% to $10.44 trillion in Q2 2021.
Topic of the Week: Red Ink Recedes
After hitting a budget deficit of $3.1T in FY 2020 due to extensive borrowing and spending measures, the U.S. Treasury is looking to decrease both its borrowing and the federal deficit in the coming months.

U.S. Review
Summer Hiring Heats Up
Data this week highlighted the economy's resilience in the face of ongoing supply constraints, while financial markets weighed the impact of the Delta variant wave on the outlook for the economy and Fed policy. On Monday, construction spending data for June came in slightly below expectations. Construction spending continued to be held back by outlays on nonresidential projects, reflecting sluggish demand in the most pandemic-afflicted sectors as well as shortages of key materials that are delaying the start of new projects. Home building remained strong, however, rising 1.1% in June, as builders work to restock the country's depleted inventory of homes for sale.
The ISM manufacturing index for July came in slightly below expectations at 59.5, the first sub-60 headline reading since January. Below the headline, there was some indication that supply and demand were coming back into balance. Supplier deliveries fell to a five-month low of 72.5, as the pace of new orders eased 1.1 points, but it is likely too soon to call the end of the supply-chain saga. Meanwhile, activity in the service sector expanded at record breadth in July. Despite their divergence this month, both sectors continue to suggest broad-based expansion, but operating in this environment has not come cheap, and the prices paid sub-index for both sectors remain historically elevated.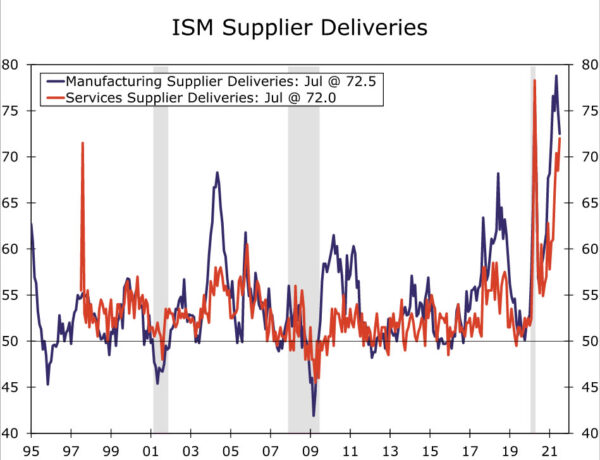 In addition to snarled supply chains and rising material costs, labor supply has been a key obstacle for businesses trying to scale up to meet the rising tide of demand. This morning's employment report showed that some of these constraints eased in July as employers added 943K net jobs. The strong gain was boosted by a 261K job gain in private and public education payrolls, due to fewer seasonal layoffs, but details elsewhere indicated that the labor market recovery heated up this summer. The reopening was on fully display, as the leisure & hospitality sector added 380K jobs, accounting for more than half of the gain in private sector payrolls. In the household survey, the unemployed rate fell by the most since last October to 5.4%, an