U.S. Highlights
This week, Congress continued to bicker over the debt limit. Fortunately, both parties were able to come to an agreement that would lift the limit temporarily, kicking the can down the road.
The September employment report was underwhelming as non-farm payrolls grew by a much lower-than-projected 194k. On the upside, the unemployment rate came in lower than expected at 4.8% partly due to a pullback in the labor force.
The U.S. trade deficit hit a record high of $73.3 billion in August on the back of surging imports, which reached record levels. Of note, the widening deficit with China has prompted the U.S. to maintain the steep tariffs previously imposed.
Canadian Highlights
North American gas prices whipsawed this week, first rising amid the on-going supply crisis and then dropping after a pledge by Russia to boost supply. Oil prices climbed on reports that the U.S. likely won't tap its strategic reserve to ease supply concerns.
This week's dataflow was generally encouraging, with building permits remaining healthy, home sales inching higher in September and net trade adding to growth in August.
September's solid Labour Force Survey report showed an increase in the labour force, a healthy 157k job gain (driven by full-time positions), and a steep rise in hours worked. The latter signals an increase in monthly GDP and suggests good momentum heading into Q4.
U.S. – Nothing is Certain Except Debt and Taxes
The continued back and forth between Democrats and Republicans on the U.S. debt limit again captured headlines this week. While Democrats want a bipartisan suspension of the limit, Republicans have so far refused to play along. Cooler heads prevailed this week, as the parties reached a detente on Thursday. Senate Minority Leader Mitch McConnell proposed a short-term suspension of the debt ceiling until Democrats can pass a more permanent solution. The deal was accepted, and the Senate passed a $480bn debt-ceiling increase, which should keep the Treasury with enough money to pay its bills until December 3rd.
The key issue behind Republicans' unwillingness to raise the debt limit is the President's $3.5 trillion spending plan. Even among Democrats, there is not widespread agreement on such a large package. Since all Democratic Senate votes will be needed to pass the bill, party members have been busy trying to scale back bill expenses that will be financed through a slew of individual and corporate tax increases.
In economic news, the much-anticipated September jobs report was disappointing. The U.S. economy added 194k jobs over the month, much less than consensus expectations for a 500k increase. On the upside, the unemployment rate came in much lower than predicted, dropping to 4.8% from 5.2% in August. The rate fell due to stronger job growth in the household survey (+525k) but also due to a drop in the participation rate (Chart 1) and 183k persons leaving the work force. Employment in high paying sectors such as professional and business services were up (+60k), though the notable decline in education (-180k) was unexpected. The slow improvement in the labor force bears watching, as a persistent shortage of workers could weigh on the recovery going forward.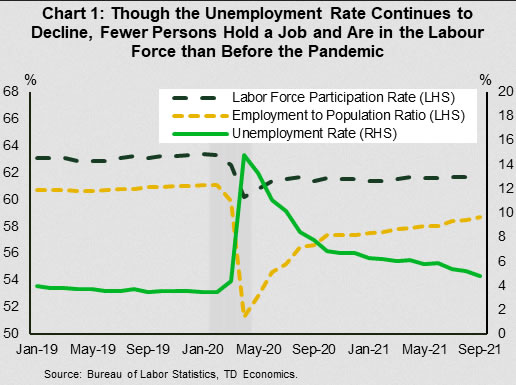 Elsewhere, the U.S. trade deficit hit a record in August on continued consumer demand for imports. The goods and services trade deficit widened to $73.3 billion in August from $70.3 billion in July. The deficit exceeded the previous record of $73.2 billion observed in June (Chart 2) as imports rose to a record high of $287 billion (+1.4% m/m), while exports rose by a smaller 0.5% to $213.7 billion.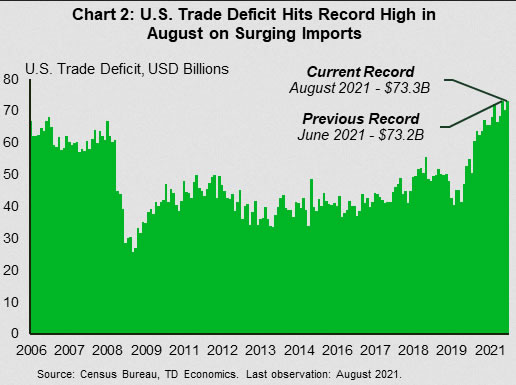 Notably, the goods deficit with China widened to $31.7 billion (up 10.8% m/m), the largest gap since July 2019, due to continued strong imports and declining exports. This dynamic highlights a key source of friction between the two nations. China has yet to significantly increase its imports of U.S. products – an obligation under the bilateral trade agreement implemented last year. The U.S. has noted that while the current Administration will begin new talks with Beijing, existing ste